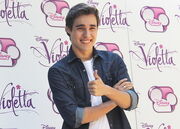 Jorge Gabriel Blanco Güereña is mostly know as Prince Charming to many of his fans who call themselves "Jorgistas". He is a Mexican singer, dancer and actor. He was born in Guadalajara (Jalisco), Mexico. He portrays León on the Disney Channel Original Series Violetta. He also appeared on the Mexican version of High School Musical called High School Musical: El Desafio. He has artistically participated in school plays, and he has taken classes from an early age and has been involved in school events. He is currently working on season 3 of Violetta with the other cast members. He is dating the actress Stephie Camarena since the year 2007. They met on the set of High School Muscial: El Desafio. They soon became good friends and later started to date. They are going to last forever!
Welcome! :) This is a page for all the Jorgistas, who love and support Jorge. We're Jorgistas F-O-R-E-V-E-R! :D I know we all can't resist Jorge's incredible talent, smile, acting, voice, music and dancing! Join the club! :D
Jorgistas
Danicabral25
JeanetteMcfarland
Community content is available under
CC-BY-SA
unless otherwise noted.